Why Keep a Boat Log?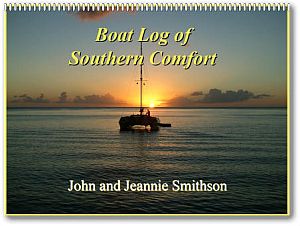 Before the days of GPS and chart plotters, a boat log's primary purpose was to plan your trip and include important details such as expected duration, course and waypoints. As the trip progressed the captain would note any variations from the planned route due to currents, weather, or anything else.
Since a logbook is not a marine requirement on a pleasure boat many captains do not keep one these days. There are however lots of good reasons for keeping a boat log; here are some of the most important.
Recording Your Trip Details:
It's good to keep a record of where you went, who was on board and details of your anchorage or marina stay. You can note the weather and sea conditions and any problems you encountered. There's lots of other information that can go here depending on your interests – anything from sea life you observed to the restaurant you dined in while on shore.
It's always fun to look back at your past adventures!
Engine Log:
Whether power or sail, the engine on your boat needs proper care if you want to avoid problems. Anyone who has spent much time on the water probably realized that Murphy (of Murphy's Law) must have been a sailor! If things can go wrong they usually will, and at the worst possible moment…
Some important things to track are your engine hours, fuel consumption, oil top-ups & changes, oil and fuel filter changes etc. This make's it easy to see when your engine needs a scheduled maintenance or other repairs. For example, fuel consumption should be consistent under similar cruising conditions and decreasing performance indicates that your engine needs a tune-up or there is a fuel problem.
Maintenance Log:
Another very useful thing to keep track of is what maintenance has been done on the boat. Typical items would include the date, the item (with the part number where applicable) that was worked on, the contractor or supplier, the cost and any comments you might want to add. This is a great record to have when future repairs are needed for your boat.
Checklists:
I have always maintained a series of checklists in my boat log that cover regularly occurring items like boat haul-out and launch, trip preparation and so on. These checklists can be as detailed as you want but should cover the essentials. For example, check that all safety gear needed is on board, or the engine oil and fuel levels before setting out on a trip.
Guest Log:
A log of everyone who visits you on your boat. Our guests usually like to sign the log and to add their comments about their time aboard.
Other Uses:
A boat log can be a useful source of information if you run into problems while cruising. For example in the case of a collision it can help demonstrate who had the right of way if you have recorded the details of your trip.
If an insurance claim is involved the company will certainly appreciate being able to review the relevant details in your log book.
Conclusion:
Keeping a ship's log requires some effort but it's well worth it! Once you get into the habit of recording your trips and other boat information it won't be a chore and you'll probably enjoy making your daily log entries.
It provides such a great record of your cruising days that can be enjoyed for many years to come with your family and friends.
There are plenty of boat logs to choose from but my preference is the Personalized Boat Log from personallogs.com. This sturdy logbook features your boat name and photo on the cover and it contains many of the features discussed in this article.