Home Recent Articles Upcoming events
What Makes A Good Marathon Training Schedule?

By Mike Stapenhurst
More and more people are running marathons these days. But many of them struggle to complete the challenging 26.2-mile event. Selecting the right training schedule to follow is a huge factor in deciding how well a runner will finish the race.
Which Training Level are you at?
Many marathon training programs have different mileage schedules for each level of training. Before choosing a training program you need to pick your category:
Beginner: less than three marathons completed

Intermediate: four to ten marathons

Experienced: more than ten

Elite: competitive runners, under 2hr:30m marathon times for men, 2:45 for women.
If you feel you are borderline between two categories, start out with the harder one and if it becomes too stressful, switch back to the easier option.
The Key Factors:
Here are the main things to look for in selecting a marathon training program
Review the daily runs, and weekly mileage. Your schedule should follow the hard day/easy day approach on alternate days and weeks.

The overall program should not be too long, (or too short). I find a 14 to 18 week program to be the best, depending on your current level of running. First time, and beginner marathoners may need more.

The better schedules have a suggested daily and weekly running goal. The schedule should be well laid out, and easy to track in your running log.

The program should be flexible. I believe you should have the freedom to change your long run day, take an extra rest day, etc without compromising the overall results.

It should not take you to too high a weekly mileage (Elite runners excepted). About 45 - 65 miles is the highest weekly mileage you will need. The beginner programs will be at the lower end of the scale

The training program should have a gradual build-up in your weekly long run distance. This long slow distance run is the cornerstone of your marathon training, and you need to develop the ability to complete your long runs without over-taxing your body.

Avoid long runs over 20 miles. Unlike shorter races, you don't have to run further than the race distance during training. It's not even necessary to run 24 or 25 mile training runs to have a good marathon.

You should also avoid following programs that have too many 20-mile runs. One or two should be enough for the beginner to intermediate categories. Three 20-milers is normally sufficient for the experienced marathoner. In the elite category it's up to you!

Speedwork! For the beginner and even intermediate categories, I don't think you need to include this type of training for a marathon. It increases your risk of getting injured. If you run two or three races during your training period this will be sufficient. More advanced runners will want to do some form of speedwork to increase the intensity of their workouts.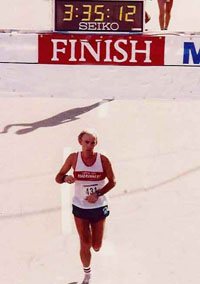 Conclusion.
The bottom line is to pick a program that matches your abilities and follows the above guidelines. It's easy for beginner marathoners especially to get drawn into training programs that are really too ambitious for their level of experience. This is true even for those folks who can run fairly fast 10K races.
Following the suggestions above will help you follow a marathon training program that will help you succeed even if it's your first time!
About the Author:
Mike is a long-time runner who has completed more than 30 marathons including Boston and New York. Mike is co-owner of Personal Logs.com a publisher of personalized training logbooks for recreational athletes.
Marathoners can get a customized training program in a Personalized Running Log.